This is a footnote to the below post.
1260d.com/2019/03/22/13b-dog-star-brightest-star-in-night-sky-goes-dark/
---
Astonishing update:
Tall Dirt Devil forms in front of Chichen-Itza '30 days' after this 13th sign, but which was one day after the 'serpent' slithered down the pyramid on the Spring Equinox
In the video below, notice the dirt devil formed at the side where the serpent's shadow descends at the spring equinox, near the head at the bottom. The serpent shadow would have appeared later that same day again as well.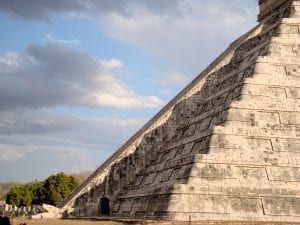 This article (Sign 13B) was posted the day after this happened.
It happens that the next post that I am currently working on is about the Enochian calendar and the importance of the spring equinox on March 20, 2019.
Recall that 30 days before these two stars were occulted, a meteor struck the moon at the very onset of the blood supermoon eclipse. (The number of the moon-god "Sin" in Babylon is "30". "Thirty is literally the number of his name.)
A day after tourists came to Yucatan to see a "serpent" climb down a temple's steps, a different natural phenomenon wowed tourists.

A dramatic, mysterious whirlwind hit an open area near the same pyramid Friday afternoon, startling amazed onlookers at the archaeological site.

The narrow dust devil, reaching up into the sky, kicked up dirt but caused no injuries or damage. A video of the incident was shared on social networks.

"Kukulkan (serpent/dragon god) is mad," said one witness, referring to the Mayan serpent deity for whom the temple is named.

Just 24 hours earlier, thousands of tourists packed the grounds as the sun's angle created an illusion of a serpent slithering down a pyramid's steps. The effect happens twice a year, during both the spring and fall equinox. (YEL)
Shocking NEW video of a massive "Dust Devil" forming over the Chichén Itzá Mayan Ruins in Mexico today! ?

Video sent in by: Enrike Sanchez#weather #stormhour #wx #nature pic.twitter.com/AF4j1Jplio

— Nash from Nashville (@NashWX) March 23, 2019
---
This is a footnote to the below post.

1260d.com/2019/03/22/13b-dog-star-brightest-star-in-night-sky-goes-dark/