Our cat, "Shiloh", died the day that this article was posted. She was with us 19 years.
We knew that when she died it would be for a sign.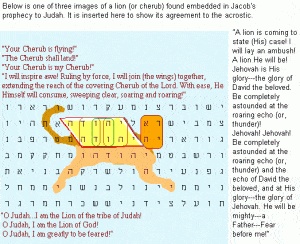 For hours up until and including the time of death, her body contorted to the exact position of the image that I had inserted into this article yesterday. The image is about the "Shiloh" of Judah of Jacob's prophecy that he gave when he died. I took a picture of Shiloh but felt it disrespectful to include here.
She cried out in loud cries in two separate bursts of cries  — roaring in that soaring position, tale curled back, front and back paws together, back slightly raised, head forward with mouth open — roaring.
I buried Shiloh in the backyard beneath the symbolic cement block that I used below my furnace in order to block animals from digging up her body.
There is more I could say, such as the 1150 days incl. on the Enoch cal. before this, but that is enough.
She died at 4:15 pm, Feb 21, 2020, and will be sorely missed — especially by my loving, heartbroken wife.
The comfort is that her death has meaning: Jesus is the Biblical "Shiloh" and that prophecy is fulfilled in two stages: At His first coming, (death and resurrection), and then at His Second Coming when He returns, "soaring and roaring."
Shiloh, and the spot she died

Judah is a lion's whelp;
From the prey, my son, you have gone up.
He bows down, he lies down as a lion;
And as a lion, who shall rouse him?

The scepter shall not depart from Judah,
Nor a lawgiver from between his feet,

Until Shiloh comes; Gen 49:9-10, NKJV
Click here to return to the full post about the locust of Mecca.
3. Vision: locust of Mecca & the Horn of Africa February 21, 2020