This footnote is hidden because of how controversial Bible Codes are. I am not convinced that tracking their fulfillment is always profitable.
Click here to return to the original post.
---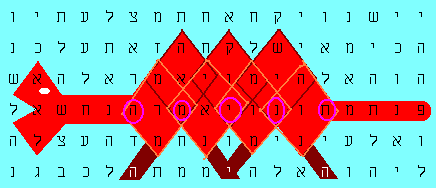 The Dragon Picture Code from 18 years ago predicted this event and when. In the code, the dragon on the Red Sea is flipped ("removed") from south to the west (i.e., the dragon is now over the Mediterranean Sea).
In part, it read: "What sea is rotting? The sea of Moses is being removed."  At the top right, the first of the seven mountains on the dragon reads, ( השמן הים) "Sea oil!" השמנ הים. People find codes hard to swallow, so I won't elaborate further.
A large rotting whale washed ashore in Ashkelon, Israel, Feb. 18th, not unlike the image of the dragon!
הערב נפלט לוויתן מצוי בדרום שמורת ניצנים. פקח רטג דוד חלפון הגיע לחוף וראה כי מדובר לוויתן מצוי (גור) בגודל 10 מטרים. מנכל רטג: ״אירוע זיהום הזפת מסתבר כאירוע גדול וחמור מאוד עם נזק סביבתי גדול מאוד שייקח לנו זמן רב לטפל בו. קוראים למשרד להגנס לחקור את האירוע ולמצוא את האשמים pic.twitter.com/DAGpESSuXF

— ilana curiel (@ilanacuriel) February 18, 2021